Many small businesses have bank accounts with Absa Bank Limited which is one of the largest commercial banks in South Africa and a big player in the African banking sector. In this article we explore how to connect and manage ABSA bank feeds with Sage Business Cloud Accounting.
By linking your business ABSA account for bank feeds with Sage your bank transactions will automatically import to the banking section in Sage, saving you an enormous amount of time and costs. 

As an ABSA business client you will hopefully be able to assess whether these bank feeds with Sage is a viable option for your business, after reading or using this article as a frame of reference. 
Prefer to see how I do it in a video? Click on the Youtube link below.
What do you need to do today? Linking my ABSA bank to Sage
At the workspace area, in Sage your are met with the heading "What do you need to do today?" I prefer to navigate my way in Sage rather by using the top navigation menu. 
To find the place where you can make this direct bank feeds link: 
Scroll up to banking in the top navigation menu
Then down to Transacations
Go to the the right and then
down to the last item on the menu which is "Manage Bank Feeds"
Click on it.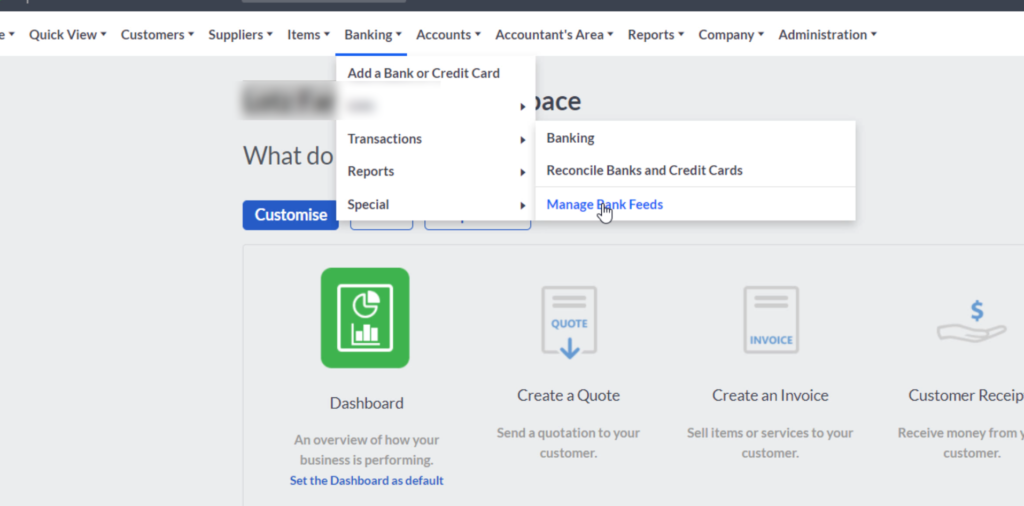 You are now on the screen where you manage your Bank Feeds. You are able to link more than one bank account for bank feeds and you can also make direct bank links to different banks other than only ABSA.
Once your bank account is linked its details will appear in the left section. You can see the hidden number displayed but right beneath it it says "last refreshed: Not linked". This is telling you that you do not have a bank account linked for bank feeds.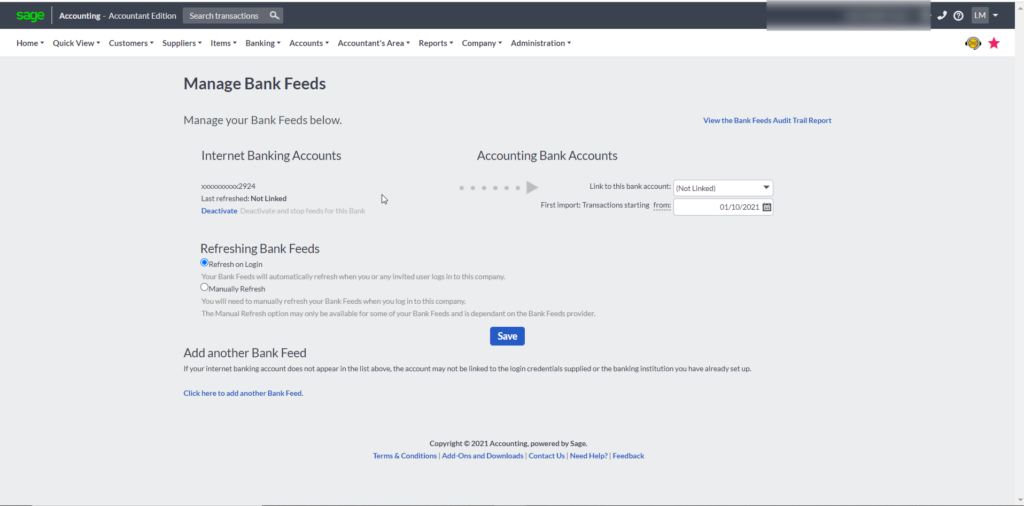 Once your ABSA bank account is linked to Sage you will have to link your ABSA internet banking account with your cashbook in order to download bank transactions for allocation in your set of books. You make this link to a bank account cash book at the right side under "Accounting Bank Accounts". 
You can also specify the starting date from when bank transactions must be brought into your Sage Bank Account.
How to stay in control?
You stay in control of how bank feeds are managed. In the section with the header Refreshing Bank Feeds you have 2 options. 
The first option which is the best route to take in my opinion is that your bank feeds will automatically refresh when you or any other invited user log into your company
Or
You can manually refresh your bank feeds after you have logged into your company. The manual refresh option has certain limitations depending on your bank and is definitely the least desirable option to take, because the whole point of this exercise is to save time and to continue with manual work and also to remember that you actually need to do this digresses from the purpose of simplifying and speeding up your business.
Next move your cursor down below the heading "Add another Bank Feed" to the blue writing "Click here to add another bank feed".
And click on it. 
Add bank feeds screen.
You are now on the: "Add Bank Feeds Screen".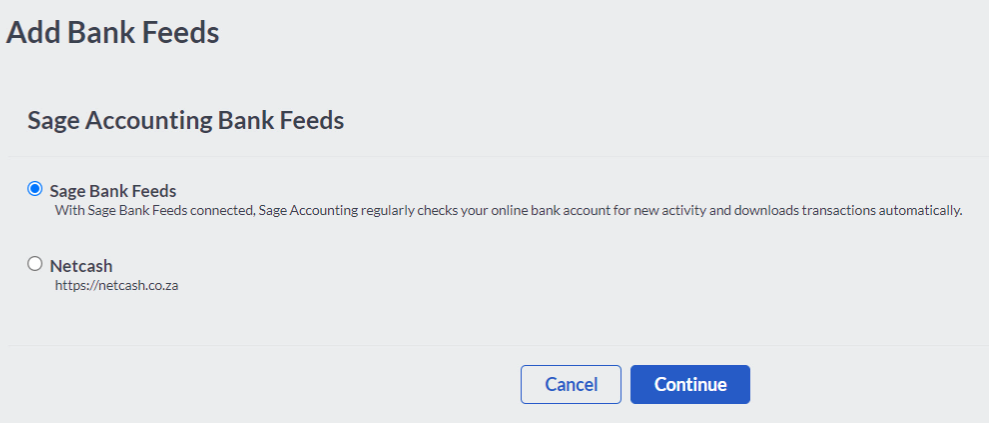 As an ABSA bank account owner you can ignore the Netcash option and select "Sage Bank Feeds". Netcash is an amazing debit order and payment gateway that also directly links to Sage.
On your Sage Bank Feeds selection it is telling you that with the bank feeds Sage regularly checks your online ABSA business bank account for new activity and then downloads transactions automatically. After doing this link myself I can tell you that this check and downloading of transactions actually happens once every day.
Click on the Continue button. 
You are directed to the Sage Bank Feed Terms and Conditions page. You have to accept these conditions as the business owner or the representative of the company. Click on continue. 
Choose ABSA from the list of banks.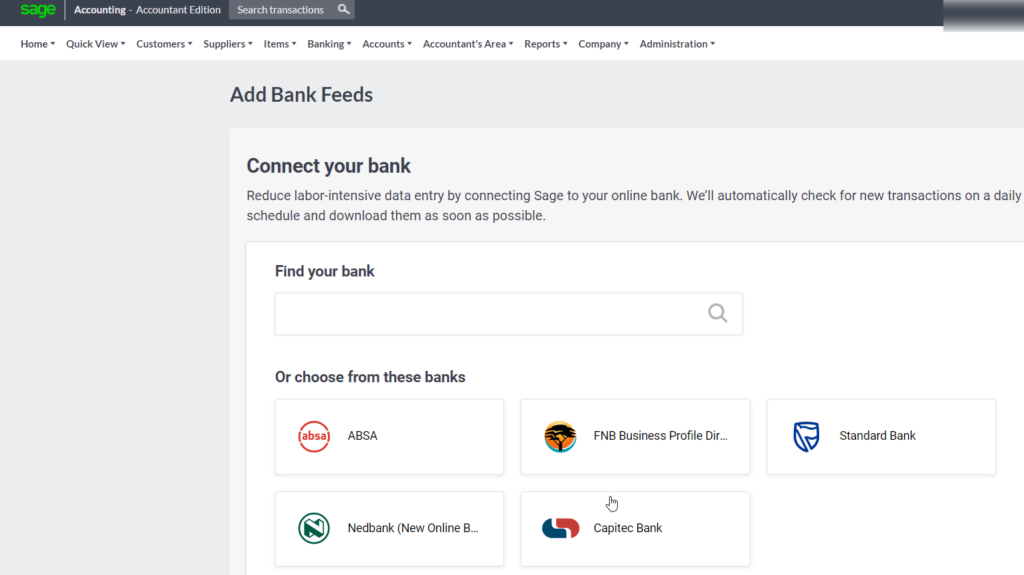 The next step is to choose ABSA from the banks listed. The bank feeds are available for the following South African banks:
FNB (only when you have a business profile, currently private profiles do not work with Bank Feeds).
Standard Bank 
Nedbank 
Capitec 
ABSA  
Click on the button with the ABSA logo.
Credentials needed to connect ABSA to SAGE
On the next screen you are prompted with what is needed to connect which is: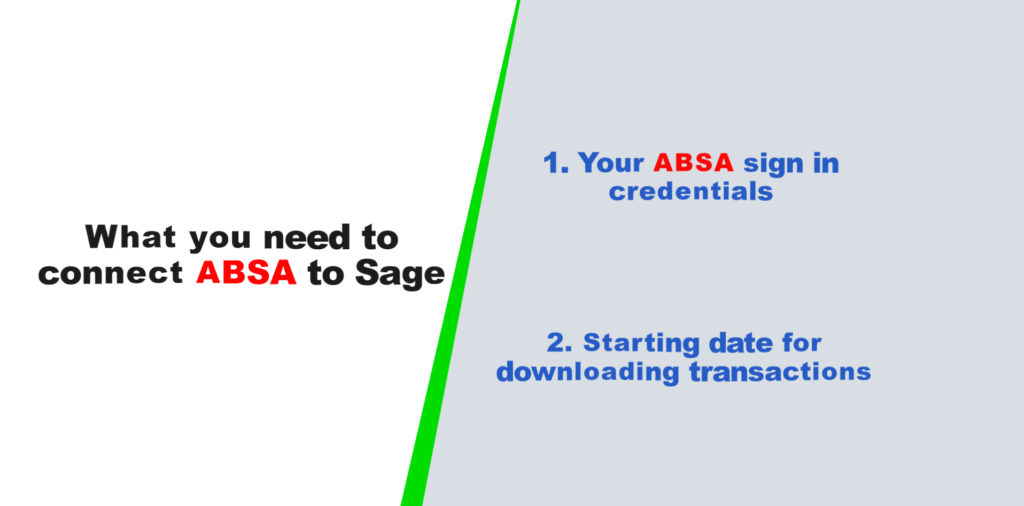 your ABSA sign-in credentials when you log into ABSA
The start date for downloading the bank transactions. Note that certain banks have a limit of only going back for 90 days. 
Press on the continue button
Complete your ABSA login details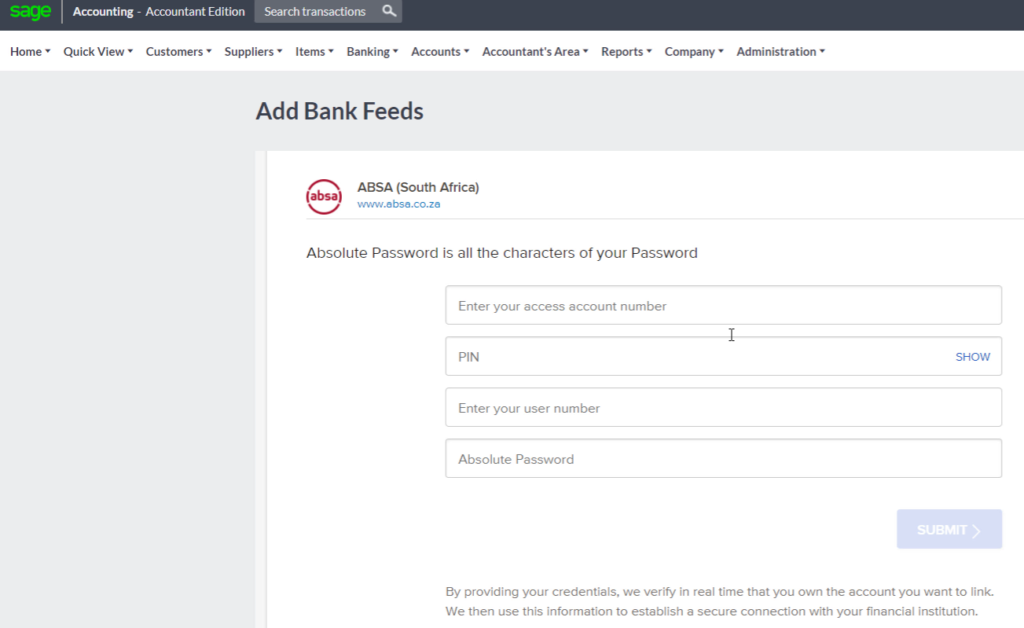 Here you enter your ABSA login credentials which is your:
– bank account number,
– your user ID,
– and password.
Then click on the submit button. 
Sage is establishing a link to ABSA
A link between Sage and ABSA will now be established as Sage is retrieving your security information. Note that you can only download transactions from ABSA and that you cannot perform payments. If you are concerned about the security features please have a look at the terms and conditions and maybe contact Sage Support before you do this. 
The bank feed is the solution that I use and prefer above importing of bank transactions which is definitely faster than manual capturing of data but less convenient than bank feeds.
If you find that you are waiting for a long time, note that it sometimes take a long time.
Select your ABSA account number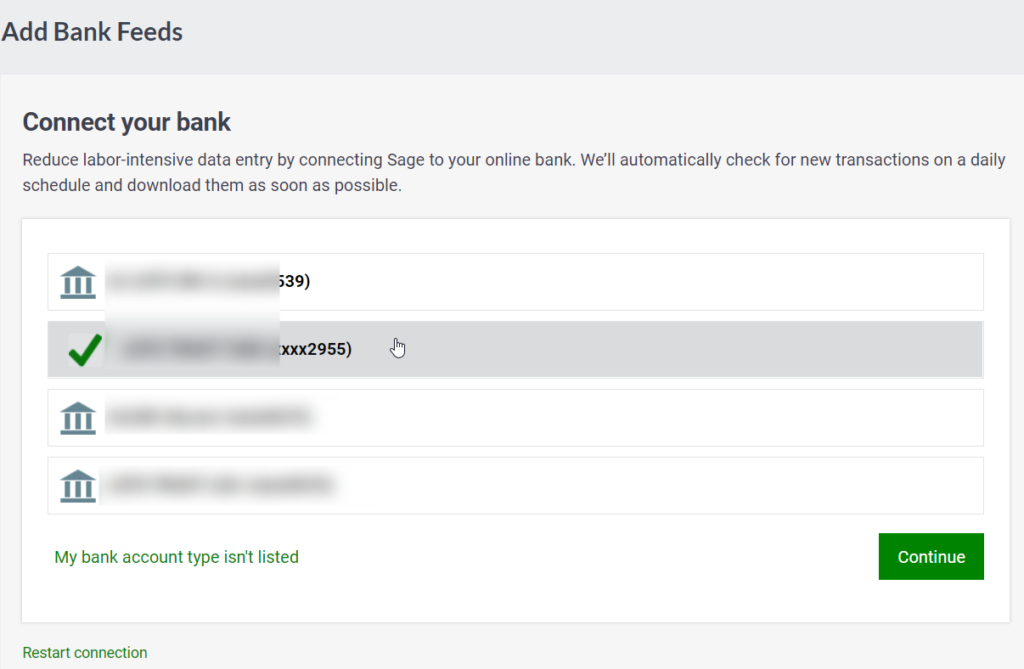 The next step is to select the business bank account number that you would like to connect. Considering that you can link more than one ABSA bank account at a time.
Press on the continue button after you have selected your account numbers. 
Choose import starting date
In the date field you have to set the date from when you want to download transactions by selecting the date in the calendar.
Click on confirm. If you are happy with your date click on finish. 
Connection complete – message
Your ABSA bank account is now connected and you will get a message from Sage that the transactions will be downloaded when your bank authorises the feed.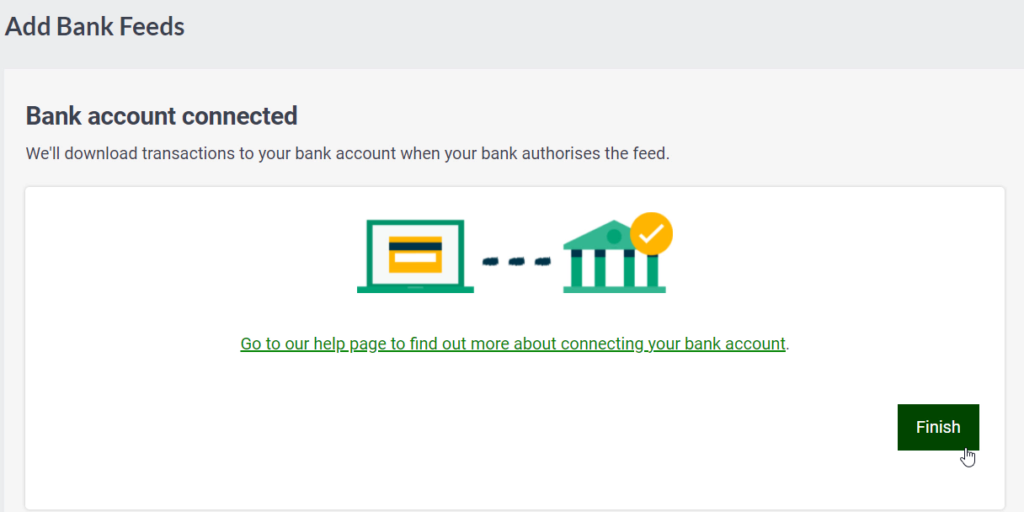 We have established a connection between ABSA and Sage but we still need to tell Sage to which cashbook this account must be linked to, that will be our next step. 
Matching the cashbook in Sage.
On the right hand side of your screen under the heading "Accounting Bank Accounts" click on the blue sentence "Choose an existing bank account." If you haven't set it up a bank account yet, it can be done as well in this menu.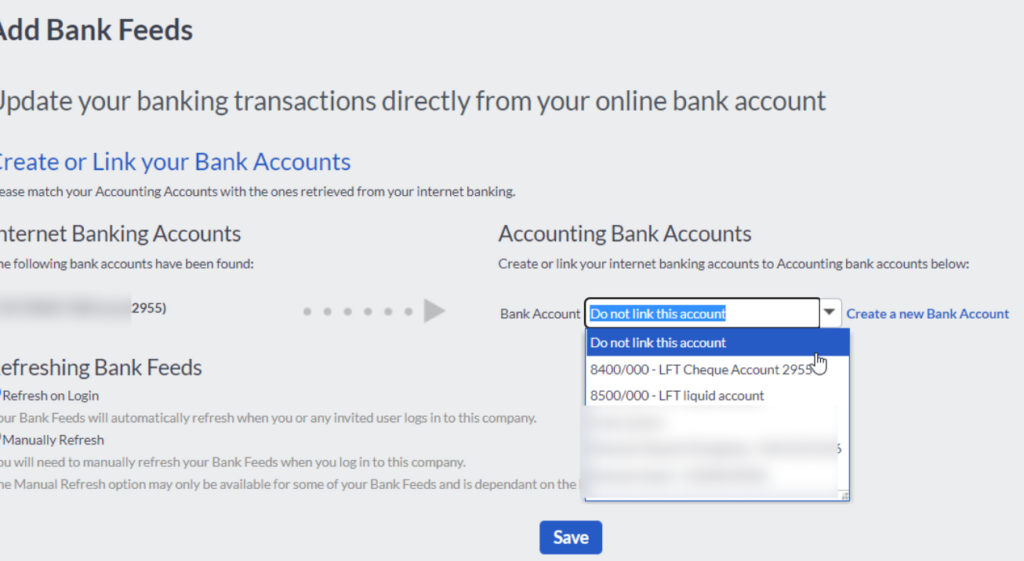 My cash book had been created before I started the bank feed linking process. In the Bank account field from the drop-down list I make my cashbook selection.
Click the save button at the bottom
ABSA bank account link successful
To confirm that the ABSA account link was successful:
go to the top navigation menu to banking,
down to transactions, move your cursor to the right to banking
and then down to Manage bank feeds.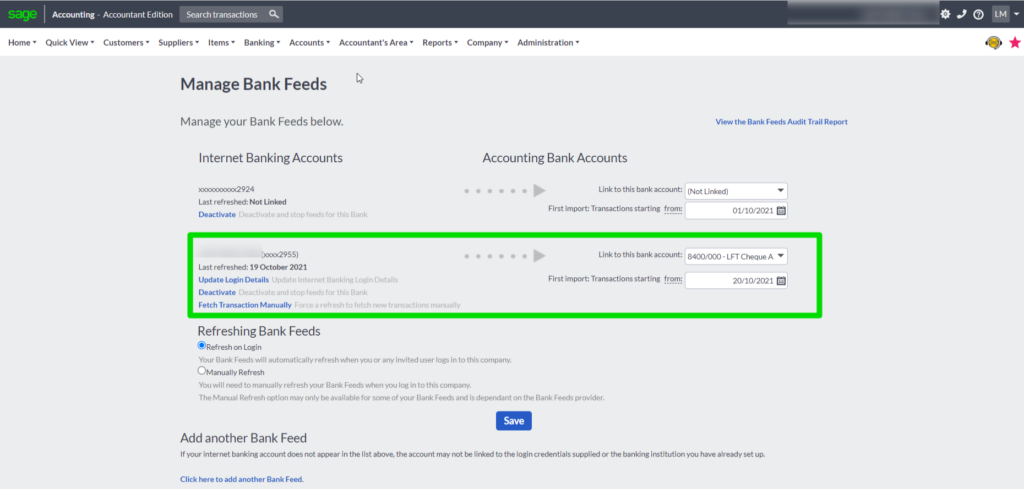 The link to your ABSA bank account is successful when the account appears in the list of linked bank accounts.