Name: ReceiptBank
Website: https://www.receipt-bank.com/
Price: Pricing differs depending on the country: South Africa pricing range – R150 pm to R600 pm – Other $30 per month to $290 per month
Owners: Privately owned
Overall Rank: 4.7 out of 5
Receipt bank overview
In life and in business a ton of paperwork is being created. Advanced mobile data capture software has been developed that solves the problem of data processing with instant mobile scanning and capturing.
Documents or papers represent the flow of information. Documents are being created to deliver a physical copy containing everything that happened during the exchange of goods and services or the terms and conditions that were agreed upon prior to the exchange of goods and services.
Receipt bank made a big leap forward in easing the pain of businesses and entrepreneurs with their mountains of paperwork that they have to deal with. This is my review of Receipt bank and the Receipt bank mobile app.
Receipt bank is a paperless business system that uses mobile data capture software and automatically extracts data and analyzes documents. Receipt bank is one of the best online document storage systems. Receipt bank solves accounting problems with automated bookkeeping and reduces human capturing in the process that leads to instant mobile capturing, paperless accounting, secure online storage and document retrieval from a cloud-based system.
History and background of Receipt bank.
Founded: 2010
Founder: Michael Wood & Alexis Prenn
Receipt bank emerged from Receiptfarm as a solution to remove the administrative burden that bills, invoices and receipts place on businesses. Receipt bank describes itself as a developer of bookkeeping automation software with the most accurate receipt scanner available.
Receipt bank has offices worldwide including London, Washington DC, Sydney, Paris and Cape Town with over 5,000 accounting and bookkeeping firms around the world using it.
Receipt bank features
Receipt bank has many amazing features that revolve around its central theme of removing the administrative burden for businesses. There are many aspects to Receipt bank and I am going to highlight the most obvious features.
How do you upload a document (slip) to receipt bank?
You upload a document to Receipt bank with three methods:
By taking a photo of the slip using the mobile data capture software via the Receipt bank App.
By forwarding the mail you received containing an invoice or statement to your uniquely created secure Receipt bank address.
Selecting a document saved on your PC or drag-and-drop the document in the designated receipt bank area
What happens with the slips after you upload it to Receipt bank?
Receipt bank analyses the slip and extracts the relevant information that will be needed for further processing after you have uploaded it. The data that are automatically being extracted are:
Date of the slip
Supplier details
Invoice number
Amount
Tax
Description
Category

Receipt bank invoice extracted
How do you get the extracted relevant information into your accounting software?
A Receipt bank account can be linked to the most popular cloud accounting software programs like Sage Accounting, Xero, QuickBooks, and Freshbook.
Once the Receipt bank and accounting software are linked the magic continues as the two programs integrate. Receipt bank sends the extracted data to your accounting as per your instructions. In your accounting software, the transaction can be processed as a supplier invoice or as a bank transaction.
These transactions appear in your accounting as fully completed transactions already categorized into its underlying category.
The relevant document is also attached to the transaction as a source document for accuracy and validation.

Where are the documents kept?
The documents are stored in the cloud and it is effortlessly retrieved in the Receipt bank system under the "archive" tab.
Receipt bank has created a range of filters to assist us with finding the particular documents that we are looking for. Initially, these filters do not seem valuable but as more and more documents are being added they become more important. The filters help with sifting through documents by grouping documents by date, number, supplier, amount, reference, etc.
A valuable tip is that documents can be stored and saved for later retrieval without it being processed by Receipt bank. This is handy for example by storing supplier statements that help with agreeing your accounting records with those of your suppliers.
Receipt bank takes automation a step further.
One of the smartest features of Receipt bank is automatic publishing. With this feature invoices that are sent to your receipt bank account are automatically categorized and processed to your accounting software.
I was skeptical of naming Receipt bank "AI". Automatic publishing gives you the feeling of AI at work. The reason is that you don't see the invoice being uploaded, you don't capture it and you don't save or print it for filing. I must say it is something to get used to, as I was so conditioned to manually perform tasks, that when "AI" did it for me I doubted whether it was done or done properly at all.
Automatic publishing base future actions upon how the task was performed in the past. When Receipt bank identifies a document as similar to your previous one it processes the document based on the rules, settings and categories you have selected and set up with the previous document of the same supplier.
Setting up suppliers for automatic publishing is effortless. Receipt bank asks you in the variable fields if this is how future items must be dealt with and you simply select and Click apply.
Receipt bank also developed a plan for invoice lines that may have to be posted to separate expenses categories. Invoice lines can be processed as separate transactions with the split function of Receipt bank.
What about those transactions that reoccur every month but you need to split it?
Certain transactions may be fixed monthly for example rates and taxes in South Africa that are set and fixed for a year. Then certain transactions vary for example electricity and water fluctuate depending on your usage. The smart split rule in Receipt bank allows you to create fixed transaction lines on an invoice. The next time that an invoice from the same supplier is loaded the split rule is applied the lines are extracted according to the split rule and you are only left with having to allocate the lines with deviations to an expense category.
Invoices where you require split % of the total amount are handled on similar bases. For example, a sectional title unit that needs to split an amount among all the units for shared costs based on a percentage of area occupied.
The % split could be based on the relative size of the unit which is a constant applied with a smart split rule to an amount. Taking the sectional title unit as an example monthly security expenses can be split based on the relative size of the unit and processed to each individual unit based upon the split %.
What are the main processing options with Receipt bank?
You have various options when setting an expense up which has been captured by the Receipt bank mobile capture data software for automatic processing.
The expense can be processed as a bank transaction to the selected bank account in your accounting software or;
The expenses can be processed as a supplier invoice (bill to pay). If the supplier has not been created in your accounting software, no stress, Receipt bank creates the supplier during the publishing phase of the invoice to your accounting software.
Bank statement extraction with Receipt bank
Most of us have been in a situation where we have bank statements which are the major source of our business' financial figures that have to be captured. By having these "raw" bank statements dropped off at your accountant for data capturing can be a costly mistake. That is the case if your accountant does not use Receipt bank.
Receipt bank has the feature whereby bank statements can be uploaded as .pdf or photo documents and then be extracted into CSV documents which can be effortlessly imported to your accounting software program.
A large quantity of data can be handled instantly enabling the accountant to focus less on data capturing and more on value-added services.
What are the pros of Receipt bank?
The convenience of having the Receipt bank app on your mobile phone enabling you to conveniently deal with slips and papers immediately by taking a simple photo.
Receipt bank saves an enormous amount of time with data extraction. There is no need to download files, rename it, upload it again. Receipt bank takes care of document uploads with one easy step.
Documents or slips are securely stored in the cloud giving you access to it when you need it.
Receipt bank offers multiple ways to upload documents. The forwarding Receipt bank emailing address can remove another manual step by giving the address to your suppliers for forwarding their invoices to you.
Receipt bank can give access to your account to multiple users providing different authorization levels depending on the functions and powers of the users.
Uploads happen instantly.
Receipt bank is cloud-driven and can be accessed from anywhere and any device as long as you have internet access.
Receipt bank integrates with accounting software programs and publishes data automatically removing the need for data capturing.
Receipt bank's data reading and extraction are accurate resulting in fewer errors.
Receipt bank is easy to understand, easy to use and intelligently laid out, which makes it possible to navigate without needing an accounting degree.
A paperless business office is possible when using the functions of Receipt bank.
Receipt bank is an important solution for people that are continuously mobile and does not want to be tied down with files of paperwork.
What are the cons of Receipt bank?
I would rather phrase the bottom section as shortcomings of Receipt bank which are things Receipt bank can improve to make it a more comprehensive all-round solution.
The biggest drawback of Receipt bank and a very important one is Receipt bank's inability to publish line items to the inventory of your accounting software. This is an important feature that is absent from Receipt bank. Receipt bank only offers the ability to publish transactions to expense categories. They are continuously enhancing the product but are in my opinion continuously missing the biggest request and demand.
Receipt bank's identification of duplicates when uploading receipts as bank transactions are weak. They have not yet found a way to properly deal with bank statement duplicates and bank transaction uploads. This is confusing and frustrating for most users, especially for smaller transactions that you don't want to open a supplier for.
The inability of changing the selected supplier for future identification after a supplier has already been assigned by Receipt bank.
Receipt bank does not automatically process uploaded bank statements to your accounting software. Unfortunately, after your bank statements have been converted by Receitp bank, you still have to download it and upload it to our accounting software even though you can see each bank statement line in Recept bank.
Who is Receipt bank for?
Small business owners that don't like the hassle of organizing, capturing, filing and storing documentation.
Receipt bank is used in the self-employed arena to combat lost documentation that could have resulted in more valuable deductions from taxable income.
Accountants.
Bookkeepers.
Auditors to simplify and trace transactions to documents.
Tax authorities.
Receipt bank training and support
On the basic level of usage of Receipt bank not much training is required. Everyone can snap a photo and that is all that is required.
Another simple task is to forward your suppliers invoices to Receipt bank or have suppliers send their bills directly to your Receipt bank email address.
If you have little or no accounting background I would suggest that you pass the rest of the work onto your bookkeeper or accountant. They will know the intricacies of reporting and the tax regulation requirements.
There is sufficient training on the Receipt bank platform for accountants to get started within minutes after starting to use the system. Accountants can start using Receipt bank after doing a series of short training videos which is in total 20 minutes long.
The training videos are excellent, to the point and short. Receipt bank is not a training platform, College or online learning institution, so don't expect much. Receipt bank training videos are definitely the way forward of how information should be conveyed.
Support is available at the right-hand corner. It is in the form of a live chat. The only problem is that it is not live and the response time can be from a few minutes to a few hours. A consolation is that you will always get a response even though not always immediately.
Sadly there is no telephonic support and my guess is that Receipt bank thought that the system should reduce administration, not increase it. The finer details and intricacies should be left to Receipt bank partners whose job should be to know the system very well.
A dedicated account manager is allocated to each partner which helps with those nitty-gritty questions support people are not really trained for. Most of these questions are handled via email.
Receipt bank partners have already evolved as a community of its own through their partner portal called "orange select". In this community, various relevant topics are discussed and ideas shared about Receipt bank and accounting practices in general.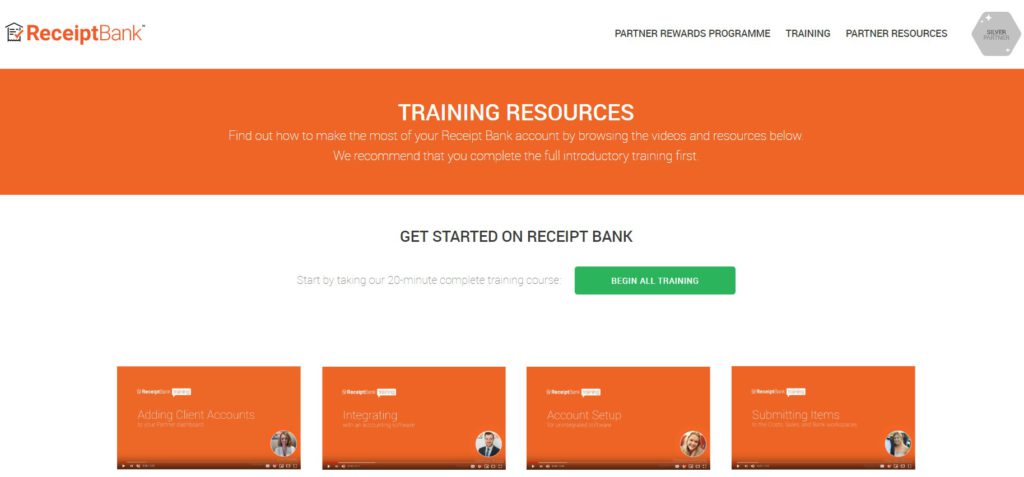 Receipt bank review – The final verdict
Receipt bank does more than just mobile data capture. It is a document storage system. It is a way to go paperless with your business and it is an automated mobile accounting system.
As I mentioned above Receipt bank has no solution for capturing inventory items and is perfect for the services industries. Maybe they do not want to expand into inventory-related business, if they do, they will definitely have a bigger market share.
Receipt bank's character reading and other technology is state of the art with excellent integration with accounting software. Receipt bank uploads fast and have a very low failure rate.
Receipt bank's mobile app works very well and securely links to your other devices. For business people that travel regularly Receipt bank is an essential app on your mobile app to store and process business slips and receipts.
In its aim to reduce the administrative burden for small businesses, Receipt bank is definitely successful. Receipt bank also helps to save you in taxes with its mobile data capture software you will not lose slips which is valuable deductions against your taxable income.
My review rating for Receipt bank is 4.7 out of 5.
The Fun Accountant is a Dext Partner: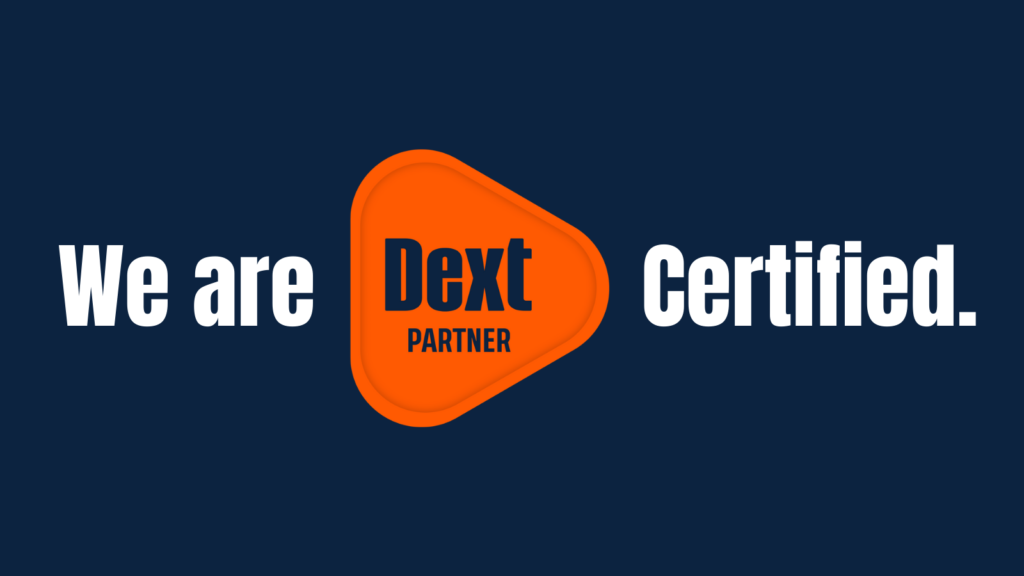 Interested in trying Dext click on the Dext logo below.
——————–>>>>>