I am going to introduce you to the Sage Accounting Workspace which is a break-through guide for doing business tasks. The Sage Workspace can be found in the Sage Cloud Accounting system.
The top heading in the Sage Workspace reads: "What do you need to do today?" with various widgets below it, which will take you directly to the place you need to be to perform a particular task in sage accounting.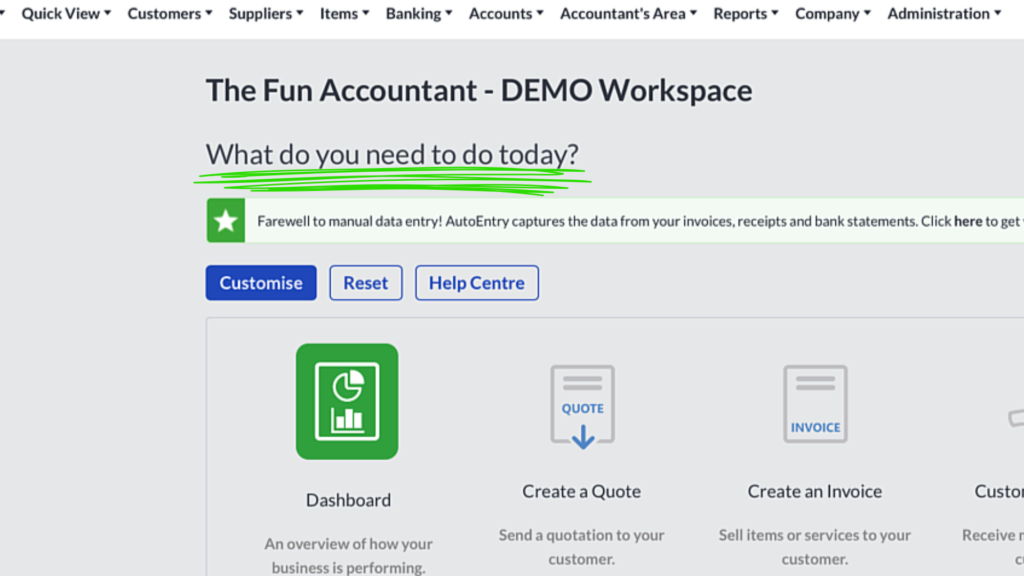 Many people like to work from the Workspace area in Sage Accounting, because it guides them in a visual way to manage their businesses and to get the important things done easily, quickly and precise.

Sage has these nuggets of brilliant tools like the workspace area to assist business owners placing the control of their businesses in their own hands without having to rely on so-called experts to do these very basic stuff.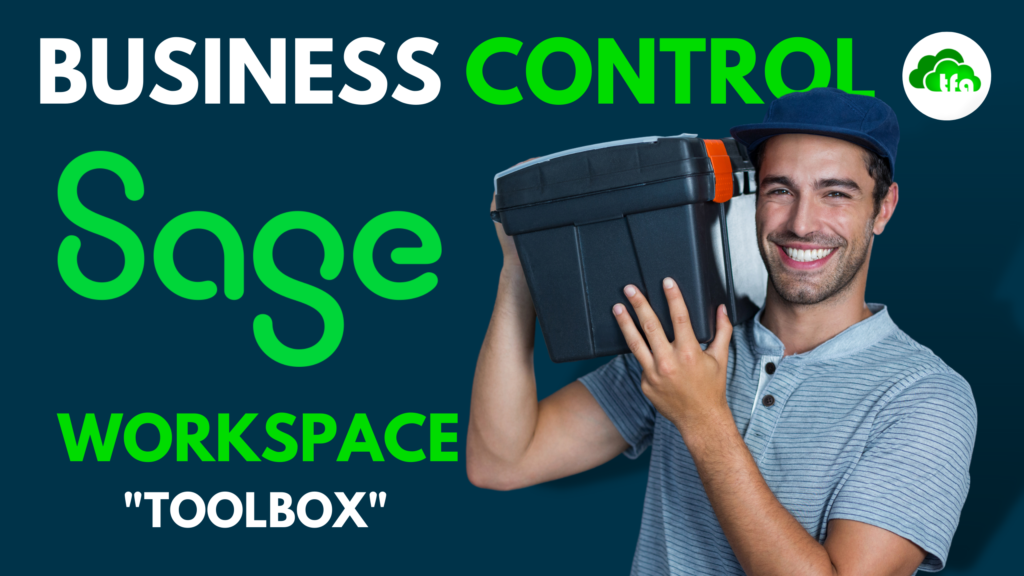 The Workspace Area in Sage accounting is a breakthrough in efficiency, because it functions like a toolbox equipped with state of the art tools that you can apply in your business to perform business tasks with ease.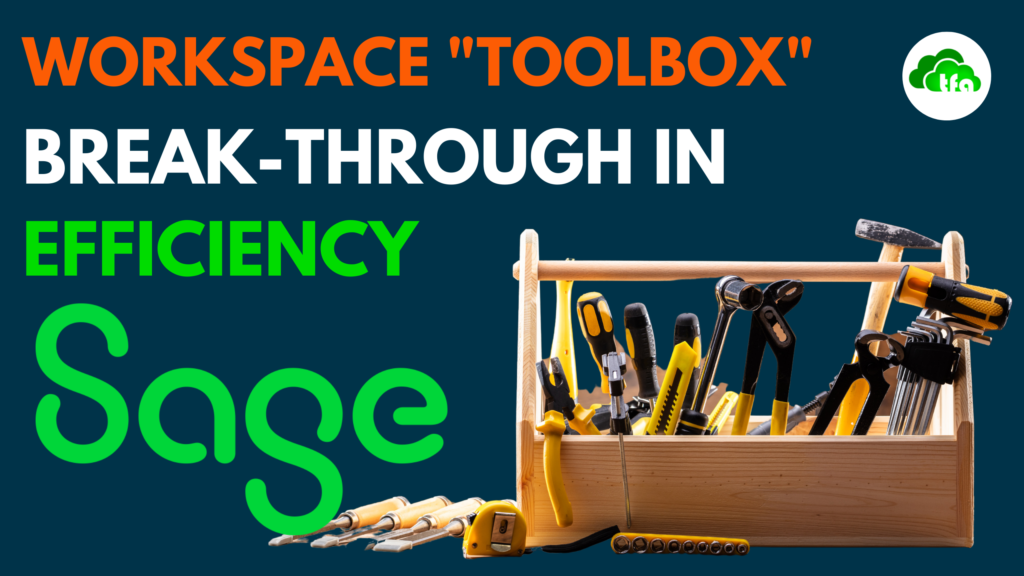 The Sage Workspace function is one of the reasons I prefer sage accounting above its competitors.
Say Hi! To Sage's Workspace and it's customisable widgets.
I am going to show you:
how to customise your Sage Workspace,
where to find and activate hidden widgets,
how to build your own unique workspace that is designed around your needs. So that you can perform tasks with ease, quickly, precise and have more fun doing so.
Sage Dashboard
The Sage Dashboard which is another great feature because the Dashboard gives you a quick summary of the most important aspects, bird's eye-view of your business. This is normally the place I start my day as a business owner and entrepreneur.
Let's go to the Sage Workspace. you can find it in the Top navigation menu bar under:
Home and
then down to the bottom to the last item
My Workspace
Click on it
When you start with Sage Accounting, Sage has already activated certain basic functions for you so that you can hit the ground running so to speak and have minimal interruptions, but there are many, many things below the surface of Sage that are kind of hidden.
Once you discover these gems in the Sage Accounting system a whole new world of possibilities open for you that you can apply in your business to make seemingly difficult tasks very easy.
Only certain widgets on your workspace area are visible when you first start with Sage but beneath the surface there is much more to reveal.
You can customise the Sage Workspace according to your needs by unlocking hidden widgets and thereby creating your own unique workspace of widgets that are mostly used by you on a daily basis.
How to customise the Sage Workspace.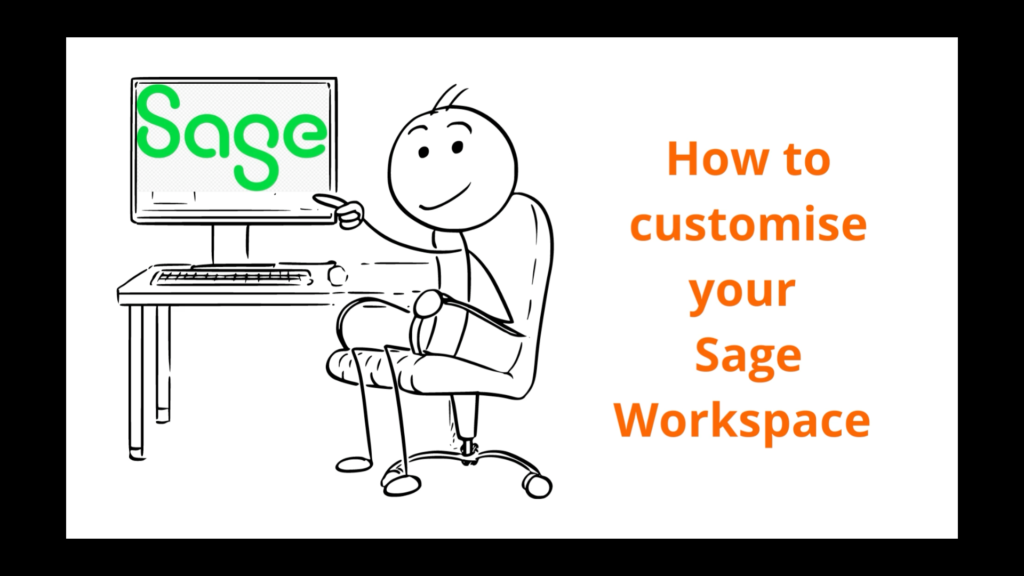 Let me show you how to customise the workspace by adding the bank reconciliation widget to our items as an example of what you can do. As I scroll down the bank reconciliation it is not displayed as one of our favourite widgets.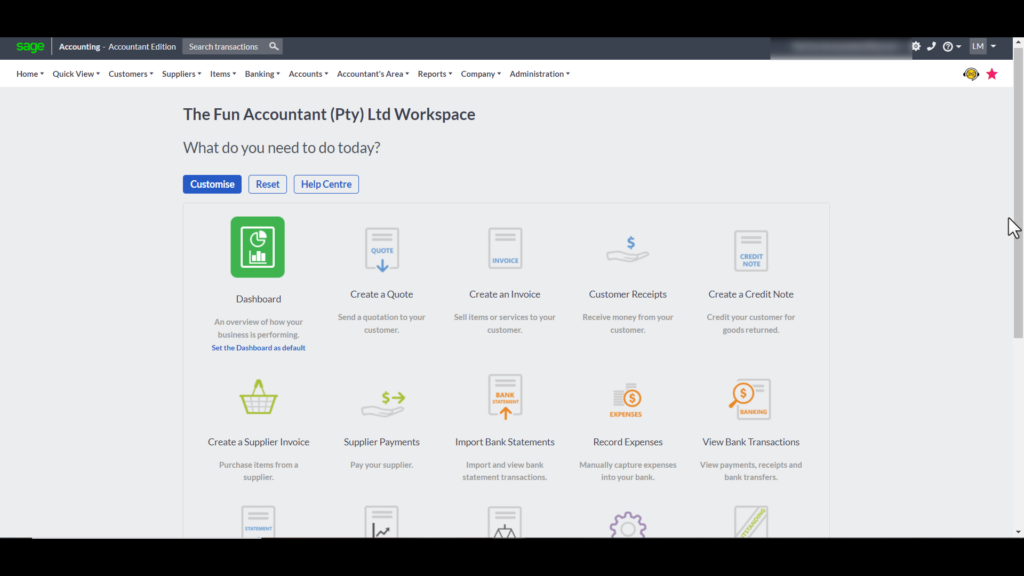 Underneath the heading "what do you need to do today?" You will find the blue Customise Button. When you click on it, the widgets that are currently displayed and active in your workspace are marked with a cross icon which means that you can remove any of those widgets from your workspace .
The widgets that are not active are marked with a green plus icon which means that those widgets can be added to your workspace.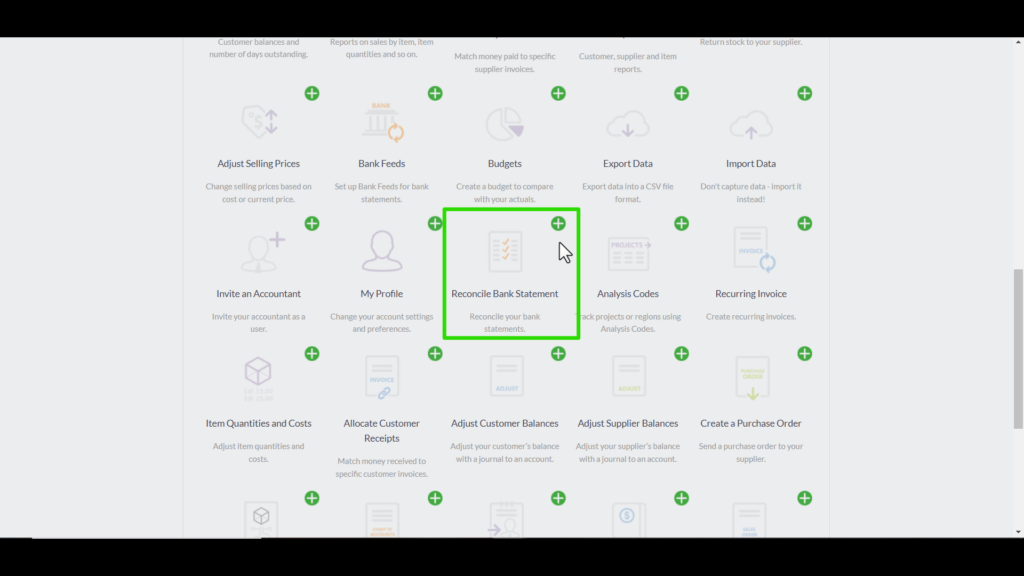 As I scroll down through the list of widgets I am looking for the Reconcile Bank Statements widget. It is next to the "My Profile" widget. I am going to click on the green plus button. It has been added as the last widget item on our list of active widgets.
To keep this new workspace with the added bank reconciliation. I have to save this setting by clicking on the Save Button at the top above the widget icons.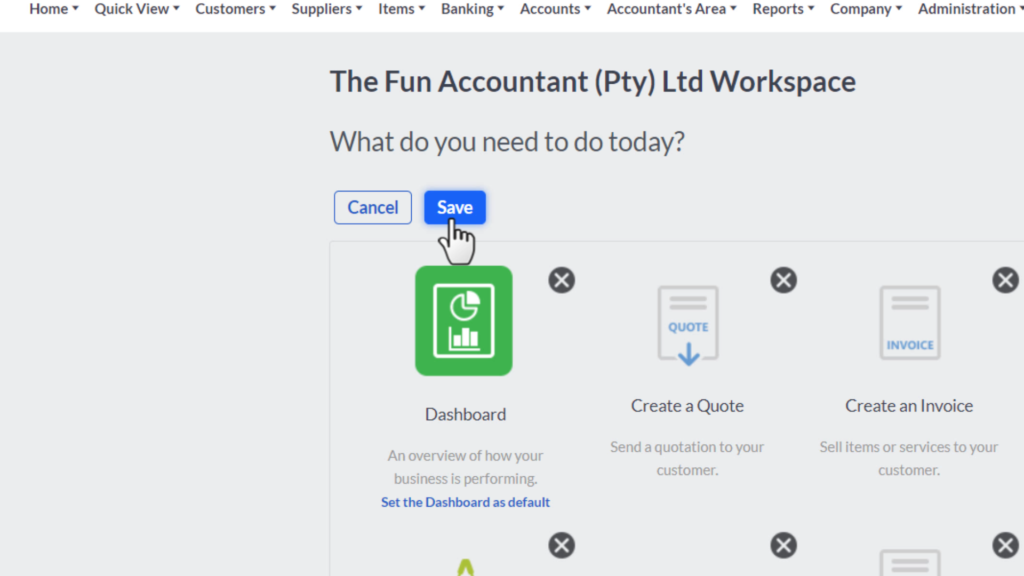 The workspace layout setting is saved.
Let's test the widget and see what happens if I click it.
I am taken directly to the place where I can perform the bank reconciliation.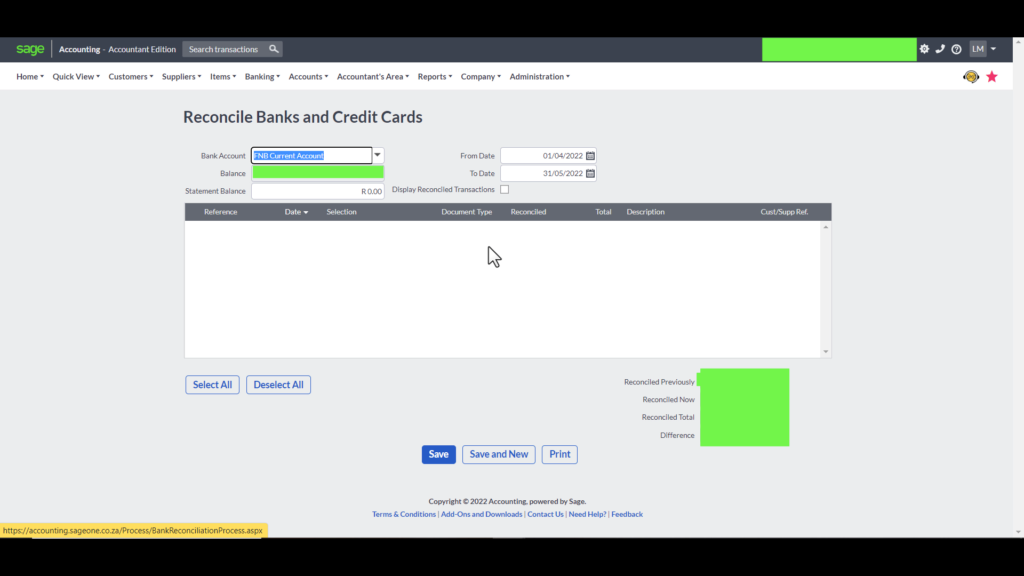 This is great because you don't have to perform an extensive search. Or have to guess under which sub-menu of a menu of a cog icon this function is hidden under, like other cloud accounting softwares I have worked with.
In your workspace you can click on the widget that describes what task you want to perform.

I am going to get a Profit and Loss report for the business.
I scroll down, find the profit & loss widget,
click on it and Sage takes me to the area where I can generate the Profit and Loss report.
I am going to define the period, let's say current year and
click on the view report blue button.
The report is generated without a hassle within seconds.
To navigate my way back to the workspace
Under the:
Home menu in the top navigation bar and
the last item at the bottom of the menu My Workspace.
There you have it, the amazing feature of the customisable Sage Workspace area.