You've come to the right place if you are a beginner sage cloud payroll user who needs a tour around their new software. You may be shopping around for new payroll software and you want to get that look and feel of it before you commit.
Sage Cloud Payroll is a cloud based software meaning you login to the software using your preferred browser and any device. Your desktop, laptop, cellphone, or tablet. This enables you to always have access to your payroll as long as you have an internet connection. This means no more electronic backup hard drives collecting dust, no software keys to remember or share, just a login screen and peace of mind that your information is safe in the cloud.
How to Login
In your preferred browser's search engine type "sage one payroll login".

The first result should be the correct webpage however you can check it by making sure the web address is as follows https://app.payroll.sageone.co.za.

Click the link and you will be directed to the login page. Remember to bookmark this page for ease of access in the future.

This is your login screen. You will create your login credentials when you sign up for Sage Payroll.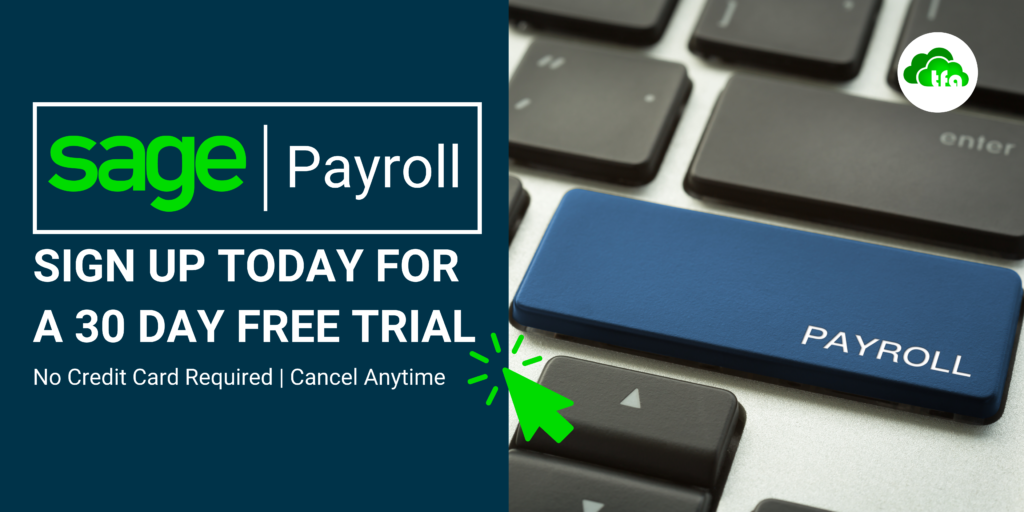 Sign up up for a 30 day free trial here .
You can cancel your subscription at any time and you do not need to provide bank account information. Enter the email address you signed up with and then enter the password you created.
Press the login button to continue.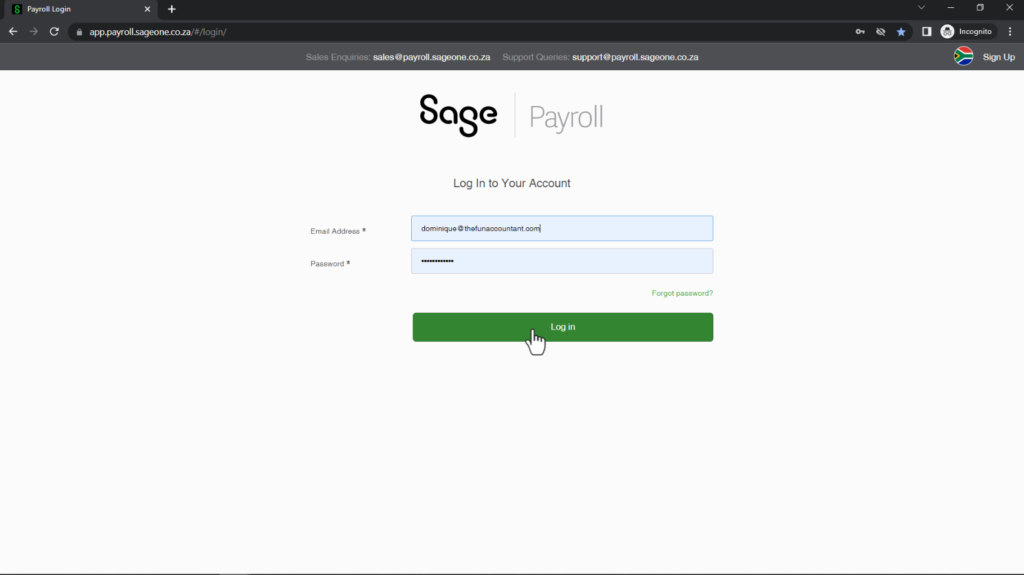 Companies and Cycles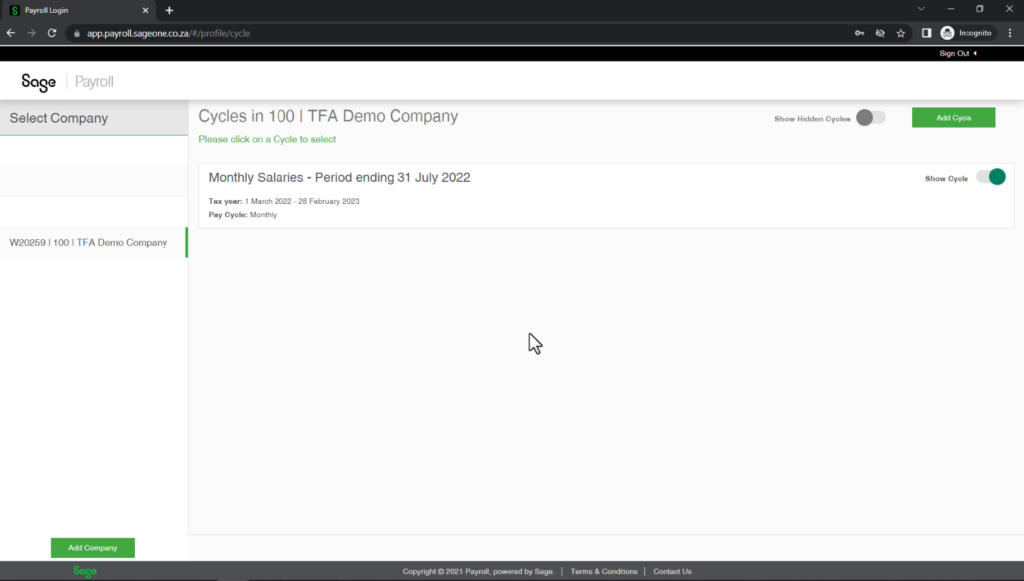 To the left of the screen, you will see your company and/or companies listed.
There is also a green Add Company button at the bottom of this column where you may add a new company.

Select a company by clicking on the name of the company.
To the right of the screen, you will see the Cycles for the current company.
Here you can see information like what pay period you are in, what your current financial/tax year is and what the pay cycle is namely Monthly, weekly, or biweekly.
If you have employees who are paid Monthly only you will have one cycle here.
If you have employees who are paid Monthly and weekly, you will have two cycles here and three cycles if you have employees who are paid biweekly.
Setting up your cycles this way will help you keep your employees organized by pay frequency.
You may decide to further organize your employees with pay cycles by having different cycles for Directors, Managers, Casual Employees, Trainee's.
Organization and privacy has never been more simple.
To add a new cycle there is a green Add Cycle button in the top right hand corner.


If a cycle is no longer needed or in use you have the option to manage these cycles by closing the cycle and using the hide cycle toggle button to the far right.

This won't delete the cycle so any information stored within the cycle may be accessed in the future.

Now we are going to go ahead and select the cycle we want to work in.
My Dashboard
This takes us to "My Dashboard".
This is your work zone and your access point to all of the powerful features Sage has to offer. Before we take a peak at the dashboard let's explore the first menu in the top black band.
First Menu
The first thing you see here is the site code assigned to you by Sage followed by the name of the company you are currently in followed by the current pay cycle.



Thereafter you see a change company or cycle button. This is where you go to switch between your companies or cycles.

After the green button we have our current period drop down. Always make sure that the current period is correct before you start processing your payroll.
This drop down allows you to rollover or rollback your current period.
We also have a Manage your pay periods item, this is where we will close or edit our cycles as I mentioned before. Should you need to go back to a previous tax year there is a "previous tax year" option.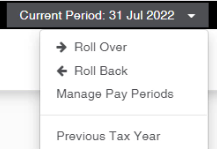 Next we have your username drop down, this is where you can access your "Profile". Here you can update information like your display name, email address and password.
This is where you will go to "Manage your Account" by viewing your current account details and access invoices.
The "Sign Out" button is located here as well. Always sign out of payroll once you are finished. Internet safety is very important.
The last three items in the top black band are icons.



Meet Pegg
Before we explore the rest of our dashboard lets meet Pegg. Pegg looks sort of like a Pac Man with glasses.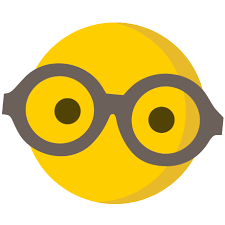 Pegg is a digital support assistant who can help you 24/7 that's because Pegg is a bot and doesn't need to sleep. Pegg is great for refreshing your memory or solving small support queries right on your Dashboard.
Second Menu
Now let's have a look at the white menu adjacent to the Sage Payroll logo.




The next item on this menu is all about the integration. Visit our website to learn more about The Fun Accountants products' powerful integration abilities that will transform how you run your business.

The next menu item allows you access to your employees pay slips and many other comprehensive reports.

The next menu item allows you to submit your UIF from your payroll software. Send your UIF File to the department of labor and receive a report from UIF as a proof of submission.

The next item in the menu is where we will manage our tax. Generate your Tax Year End and Mid Year submission as well as the file to be imported into @Easyfile.

Notifications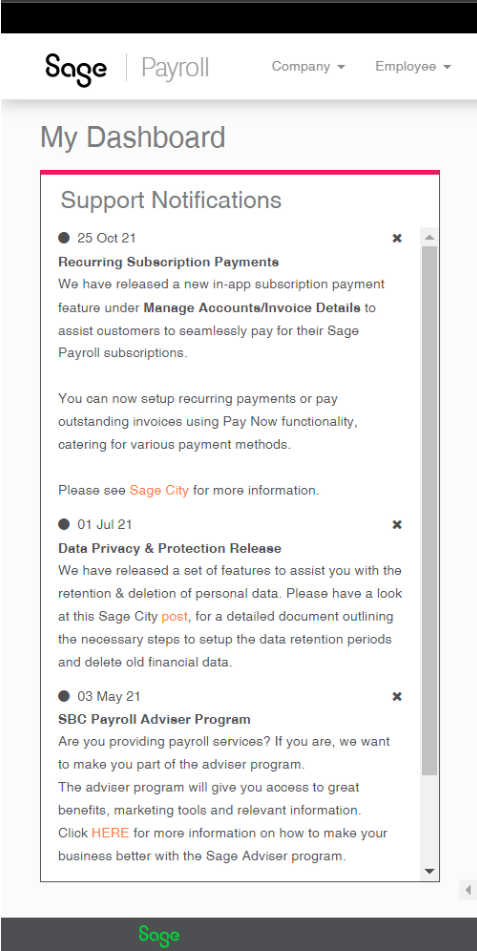 We are ready to move on to exploring the payroll Dashboard.
Your Dashboard is a quick overview of important information.
To the left of our dashboard we have Support Notifications. Support Notifications delivers to you important notifications like Sage software updates, legislative changes and Sage news right on your dashboard.

To the right of your notifications bar we have an Employees overview: Displayed is your number of employees, number of terminations and a quick link to manually add a new employee.
A Month Calendar followed by information pertaining to the current month such as current period, the date and public holidays within that month is displayed. Employee birthdays can also be seen here so you don't forget anyone in your organization.
The last item on our dashboard we are going to explore is the Pay Cycle status: This functions as a progress bar to guide through your processing and to provide quick links to all the processing functions to be addressed.
In the future we will continue to make Sage Payroll content and explore the software in depth.