Background:
Small businesses' main constraint is access to resources. These limited resources can be funding, suitable people, and appropriate solutions.
I want to focus on a specific solution. Big Businesses can just go buy the right solutions or even develop it themselves. We as small business owners have to "wing-it" in a sense and find resources within our means. 
A few years ago I had a problem with my accounting practice. All the aspects of my invoicing function (or billing system) were manual and this constraint prohibited me from growing. 
My staff and I captured our time in diaries. 

At the end of each week, we summarised our diaries on a spreadsheet and handed it to a data capturer after I have reviewed the past week's timesheets. 

From there the timesheets were captured on a time-billing system.

Before creating my billing invoice I would draw a WIP report and then calculate the invoice based on the time manually. 

The invoice was then created on another system and mailed to the client.

The WIP report with the manually marked time and invoice were stapled together and sent back to the data capturer to remove the time invoiced from the time-billing system.   
All the accountancy software suggested to me was too high priced for me to afford. Even though my above system did cost money in terms of time spent, it worked in a way and was many times cheaper than the systems used by the big accounting firms. 
Then Sage One was launched which was Sage's Cloud Accounting solution. I jumped onto this as it was less expensive than any other competing product, it was cloud-based with all the functions I needed in one system. The time-tracking and invoicing function of Sage Business Cloud Accounting revolutionized my business in a positive way. 
We capture our time using the electronic clock system in Sage. The time is directly recorded on my client's project I have created using pre-determined tasks. When I am doing an invoice the time recorded per project is available for me to select, amend and grouped as invoice lines directly on the invoice that are sent to clients. As time is invoiced it is also removed from the Project as being billed. 
I was able to use a solution that integrated all my above steps within my invoicing system. This enables me to compete with large businesses as my business now also have access to a system that improves my efficiency. 
This is my review of the invoicing function within the Sage Business Cloud Accounting Software. 
This article focuses specifically on invoicing which is the most important function for any business to secure a healthy cash-flow. 
What is Sage Business Cloud Accounting Invoicing?
Sage Business Cloud accounting works on the Software as a Service (SaaS) basis. SaaS is a software distribution model in which a third-party provider hosts applications and makes them available to customers over the Internet. In this case, Sage provides online accounting software to be used by third-party clients. 
Sage Business Cloud accounting removed all the technical aspects of accounting software by enabling any person to have a full functional accounting set of books running on the internet. By setting Sage Business Cloud up in minutes the user can have full control over his business functions. 
The most important part of running a business is to ensure the continuous inflow of cash into the business. This is achieved by having a sound invoicing system and getting paid by customers. 
An introduction to the software company Sage
Sage was founded in 1981, in Newcastle upon Tyne, United Kingdom.

Sage is the largest software business in the UK. 

Sage was founded by the following people:
David Goldman (1937-1999);
Paul Muller (1937–2013) &
Graham Wylie.

Sage has offices in 24 countries. 

Sage

South Africa, or formerly known as Softline, which is part of The

Sage

Group. In 2003, Softline was

acquired

by The

Sage

Group plc.
Product summary 
Product Name: Sage
Website URL: www.sage.com
Owners: British multinational enterprise software company 
Overall Ranking: 95/100 or 4.5 stars
Price for South African companies:
Free – 30 days free trial

R150 p.m. – Invoicing base

R270 p.m. – Full comprehensive accounting

visit our pricing for a full list of options click here  ===>>>Pricing
Sage cloud accounting invoicing main features
Set up customers master file;

Perform quotes online and with a mobile device;

Pre-designed invoice layout forms to choose from;

Convert accepted quotes to invoices;

Link physical items or service items to invoices;

Print, e-mail or give a client access to invoices online;

Different users can have different access levels to split invoice generation from delivery notes;

Send customer statements  online from any device;

Automatic creation of recurring invoices daily, monthly or annually;

Track sales by Sales Rep;

Access to history of invoices from anywhere;

Customer adjustments, credit notes, and write-offs included;
Sage cloud accounting invoicing functions
1.Customer list (Masterfile)
The customer list or Masterfile database is the heart of the invoicing system. In this section, all the relevant details about the customers are stored and used later for extraction by the software to perform the core functions of invoicing. 
Customers can be added as I carry on day-to-day activities when needed or a list of customers can be imported. Adding a customer to my list of customers is a very simplistic process and the minimum information is required.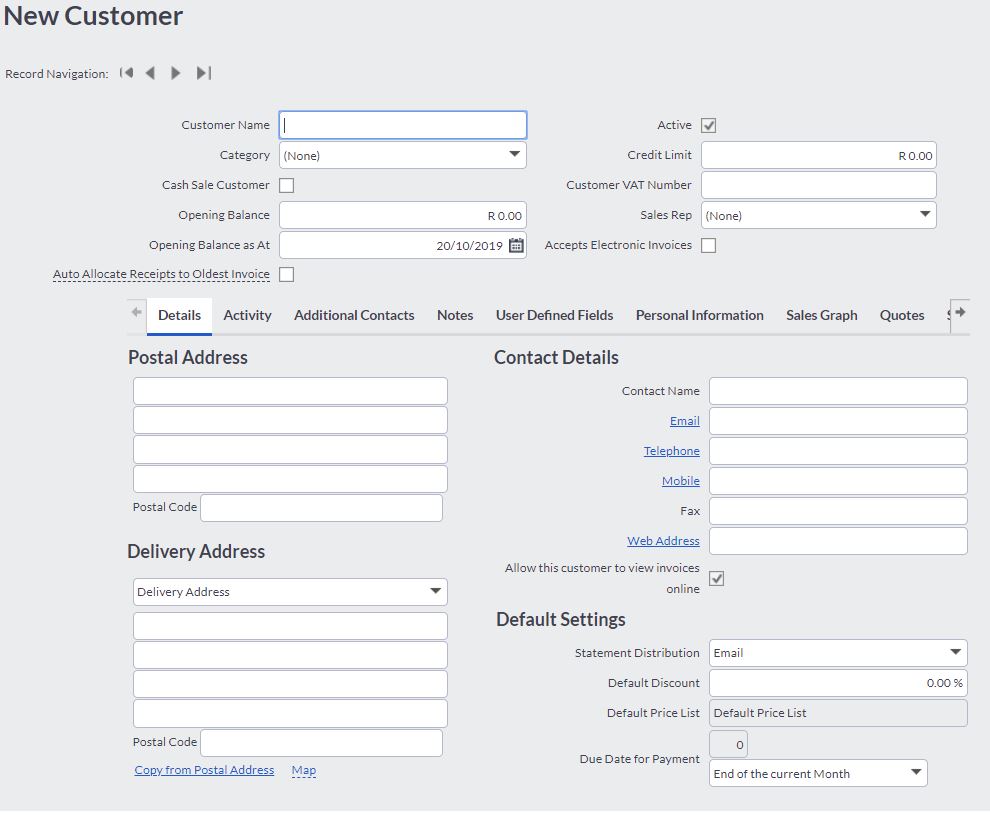 Of course, the more information I can add about my customers, the more powerful it becomes my customer database. 
The following fields are available:
Customer name;
Category e.g. region;
Credit limit;
Customer's VAT nr;
The sales rep (for allocating customer commission);
Postal and delivery address;
Contact details (names, email, telephone and fax nr);
Statement distribution (E-mailed, printed)
Default prices and discounts
On the customer list, more screens can be opened to add additional contact details, notes, additional fields. 
There is also a note section that acts like a to-do-list where I have the option of uploading supporting documentation for cloud storage. This is a handy feature, for example, storing contracts signed with a particular customer. 
2.Customer quotes
For many businesses, a positive cash-flow starts with doing quotes. Quotes are still today being handwritten or typed in a word processor or spreadsheet. I wonder how much time businesses put into a manual quote system. In most cases, the quotes are retyped for invoicing. Although it can possibly work there are more efficient ways of doing business.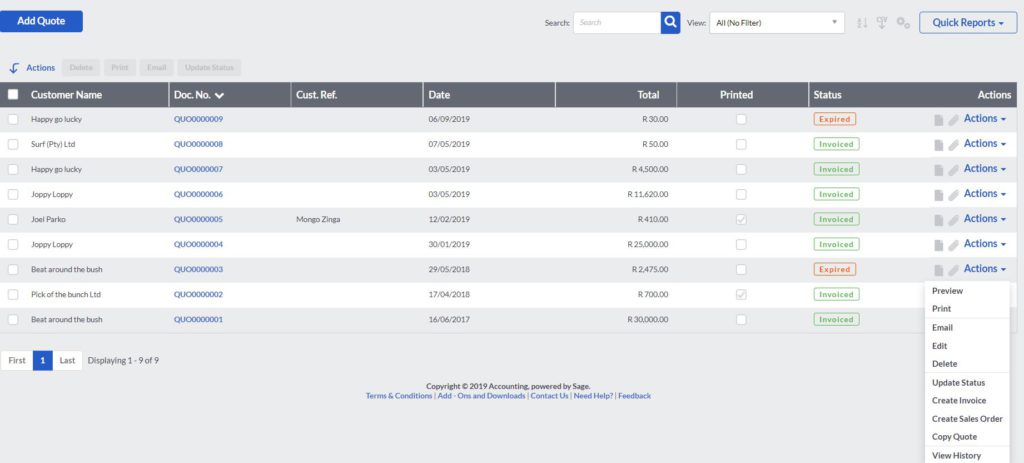 Having my quotes performed on Sage Cloud Accounting leaves all the quotes on the system for follow-ups. Quotes are like leads, the foot in the door an opportunity that should not be squandered by a serious business owner.

Once a quote is accepted by the customer I can do exactly the same on the Sage system. Tick it as accepted and the rest of the team knows exactly what the quote is ready for execution. 
Sage Cloud Accounting deems quotes as important by allocating a dedicated panel under customers for quotes. From dish panel quotes can easily be managed as the progress of the quotes are clearly indicated on Sage. 
Converting quotes to invoicing is a major time-saver. Quotes are converted by clicking on "edit" next to the quote and easily convert it into an invoice by selecting "without redoing most of the work.  
A bonus is that Sage Cloud Accounting reminds me of quotes that have been created and that has not been worked upon like "accepted" "declined" etc. 
3.Customer sales orders
Sage has a function to deal with customer sales orders. The sales orders can be accessed and viewed by my warehouse staff. This document that is available online allows my staff to pick and prepare goods for delivery. 
In practice, a sales rep can prepare a sales order whilst taking an order from a client. The warehouse staff will be alerted on the sage system that the order has been placed. The sales order also allows for notes with each sales order document that needs to be actioned, as well as the ability to link attachments to the sales order. This is useful for signed contracts, special instructions, etc.  
The sales order is converted into an invoice and delivery note can be printed or mailed to my customers with the sales invoice for delivery. 
4.Customer invoicing
Customer invoicing which is a very important function and actually follows after other actions that have been performed by someone within my organization. It follows the logical steps which happen during the provision of goods or services. With the benefit of having the supporting document, data drawn from the customer Masterfile and/or inventory items.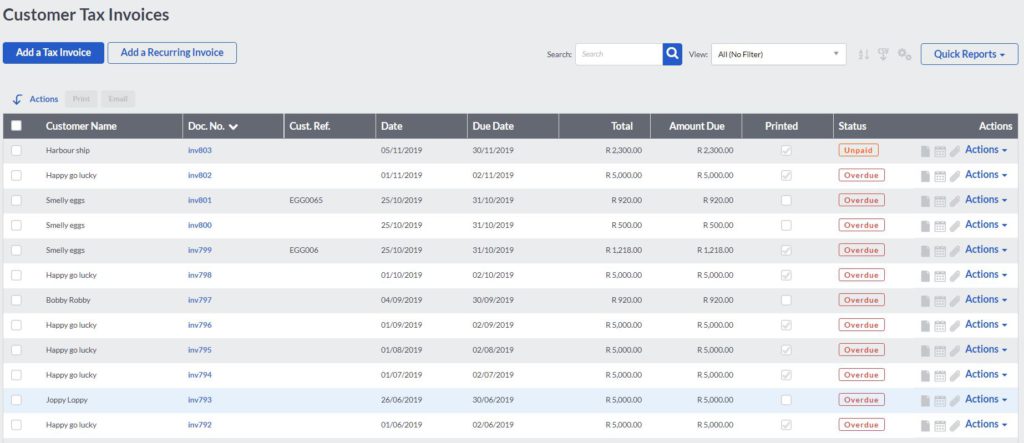 Quotes and sales orders are converted into invoices by clicking on the action button. Quantities, prices and descriptions can still be edited before an invoice is submitted to a customer. The integration of functions ensures a seamless flow of activities and saves time. 
Customer invoices can also be created by skipping the quote or sales order step. Invoices can be issued by using the same customer Masterfile. I have the option to select items either being service or physical items or to process directly to the preferred general ledger account. 
Invoices contain all the important details required. Details about my customers are pre-populated from the customer Masterfile or can be typed in. Other fields are available for more details, for example, Quote nr, Sales rep, Ref nr, discount%, credit limits, date issued, date payable. 
The invoice lines make provision for additional descriptions if more than 150 characters need to be typed. It is followed by units, quantity, amount, Tax types, discount amount or discount % and totals. Or lines are automatically added including the relevant tax of the specific country. 
Sage Cloud Accounting provides an additional document layout function. This function allows me to customize the invoice layout to the business' specific needs. Different layouts can be used for different customers. 
Invoices can be printed or emailed to my customers automatically from Sage Cloud Accounting. Once the invoice is created, the customer's account is automatically updated with the invoice. 
5.Recurring Invoices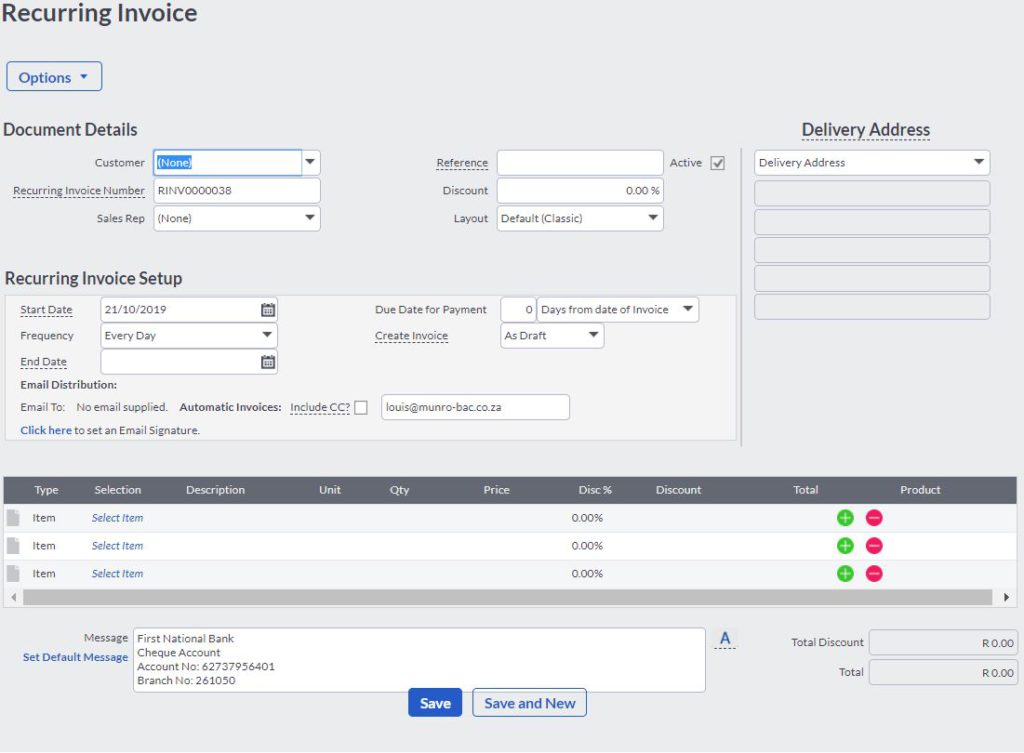 The Recurring Invoices function of Sage Cloud Accounting is very useful for businesses that have negotiated a recurring fee. The frequency that the invoice is automatically generated can be weekly, monthly, annually, bi-weekly, bi-monthly even daily. This saves a lot of time by having invoices frequently generated and it also results in more efficiency preventing me from forgetting to invoice. The Cloud Accounting software does it all for me.  
6.Customer reports
When any service provider mentions reports, I get nervous. It feels like if I am going to be overwhelmed with reports containing countless scenarios of what happened and "what if". 
Reports are great but I sometimes think that certain software companies have lost touch of reality. As if a small business owner can sit for hours studying various spreadsheets and presentations of what happened in the business. In most cases, entrepreneurs know exactly what is happening within their business. A nice pie-graph is not helping much it just enhances the problem that the entrepreneur knows does exist. How does he know it? By reading his bank balance. 
Worst is that service providers expect accountants to generate these reports for owners and then bombard them with it, with the aim of charging more fees for the value-added product and discussions that the accountant can lead. The reporting product is being sold to the accountants with the pretension that you can generate these within seconds but charge hours worth of time for it. 
The small business owner does not want to pay anybody much more for coloring a picture that is already drawn. 
Small business owners want to have what everybody else needs and that is more time doing what they love, which is the reason why they started the business in the first place. Normally the goal is more profit with fewer resources and a healthy cash-flow. 
With the customer reports in Sage, I do not need an accountant and pay him to tell me what I already know. Reporting should a natural flow of business presenting what I need to know, based on accurate information recorded. 
Within Sage Cloud Accounting I can generate a report from any period about sales, customer transactions, list, statements, quotes, invoices, and receipts.  
These reports can be exported to spreadsheets, pdf, printing and other formats. There is enough for the connoisseur investor yet simple enough for an entrepreneur to create and know what is going on, without having to contact my accountant. 
7.Customer Quick View
Everybody loves shortcuts and a simple answer to a complex question. Customer Quickview provides a bird's eye view of my customer's engagement with my business. How much he has spent, his total sales, pending quotes, credit limit balance outstanding, invoice history and contact details. 
Customer Quickview is easy to navigate, simple to use, yet contain very powerful information that I need about my customers. 
Most frequent questions and answers
Who is Sage Cloud Accounting invoicing for?
Sage Cloud Accounting invoicing is for any business that needs to engage with its customers by giving quotes, invoices, statements in a professional efficient manner and that want to do it in the Cloud Environment. 
Sage cloud invoicing is for small, medium-sized and large businesses. It is useful for one-man businesses, partnerships, corporations and companies. 
Sage Cloud Accounting Invoicing can be used in any industry. From time-billing, product sales, consulting, non-profit organisations to engineering and project-driven businesses. 
Is Sage Cloud Accounting for free?
Sage offers a 30-day free trial. Thereafter it works on a monthly or annual subscription basis.  
What training do I receive?
Sage has free training videos available on youtube. Sage also offers E-learning and classroom training courses but you have to pay for it. 
https://shop.sage.co.za/training/?gclid=CLzU6a7o4uUCFUGIGwodCkEEjw

What are the Sage Cloud Accounting Invoicing Pros?
Sage invoicing is a comprehensive system that can be used by 90% of all businesses without the need for add-ons;

Sage Cloud Accounting is available from any device that has an internet connection;

Invoicing links to inventory that is live and up-to-date;

It is easy to use and understandable and the business owner does not have to be an accountant to navigate the system;; 

No back-ups and updates required as all the data is stored in the Cloud; 

The invoice designs are modern and comprehensive but can be tailor-made; 

Access can be given to more people in the organisation and each user can have different user-rights; 

The customer Quickview is a very powerful tool for business owners and bookkeepers;

The recurring invoice system results in time-saving and efficiency; 

Sage Cloud Accounting Invoicing provides the same valued information as other systems but has the benefit of being in the cloud; 

Sage statements can be generated as a batch and sent as a batch via email; 

Sage Invoicing gives access to the customer zone for your customers where they can view their invoices and their transactions online; 

The quotes and reminders of pending quotes are very useful for businesses that rely on quotes; 

Reporting for sales reps and their performance can be done through Sage Cloud Accounting; 

It is a live system but the history is kept for an unlimited period; 

Important documents can be attached to customers' areas and transactions; 

Invoicing can be linked to projects;

Sage cloud accounting converts quotes to invoices
What are the cons?
Sage could have done more about the sales reporting function. It is not possible to get a sales report stating to which ledger account sales were allocated to.

The mobile app is limited with its functions and functionality and could definitely be approved on, in a world where the devices people work on is getting smaller.

Sage Cloud Accounting's ability to link directly to online stores is very limited. There is further no function to link to WordPress websites which will enable the business to generate invoices directly to Sage Cloud Accounting. 

Sage doesn't have the function to link with international bank accounts and payment platforms like PayPal and Stripe.

There are very limited training available on Sage Business Cloud Accounting. Where training is offered it is not for free.

When doing recurring invoices, the invoice that you create cannot be viewed before it is created.

You have to pay to add additional users. Although it is not very expensive it is still a cost that needs to be considered.
Where can I find Sage Cloud Accounting invoicing? 
Sage Cloud Accounting Invoicing is integrated and part of the full Cloud Accounting package that Sage offers. By following my link or clicking on the tab in the top right corner you will be directed to the sign up page for the 30-day free trial.
Conclusion and verdict 
My findings:
1.Customer list (Masterfile)
Very easy to use, comprehensive database that will ensure that I can have a complete client database in the cloud. My customer list can be amended and expanded over time. Sage has thought about everything I might need within my business whether it is large or small. There are no limits to the size of my Masterfile. 

2.Customer quotes
The customer quotes work brilliant in Sage Cloud Accounting and look professional so that I can set my best foot forward when trying to secure the sale. The outstanding quotes reminder which can be seen when I open the dashboard helps me to follow up on outstanding quotes when I have to.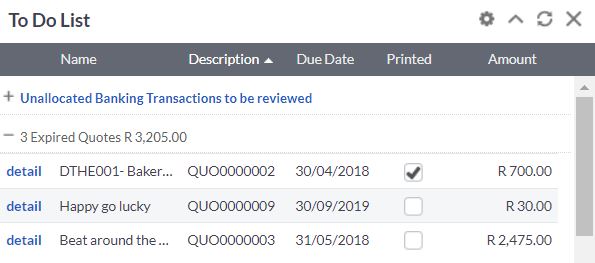 3.Customer sales orders

The customer orders are an additional feature to help warehouse type of businesses to generate sales orders, picking-slips and delivery notes. 
If Sage could find a way for my customers to place orders directly within Sage it would be a winner.  Unfortunately, it doesn't link to Woo-commerce or other online store businesses. 
4.Customer invoicing
Sage Cloud Accounting recognises the importance of having an efficient, reliable and professional invoicing system without the need to use other add-ons. Most businesses will find value with this function of Sage. I cannot find any fault with the customer invoicing system to the contrary it is a very powerful function within Sage Cloud Accounting Invoicing.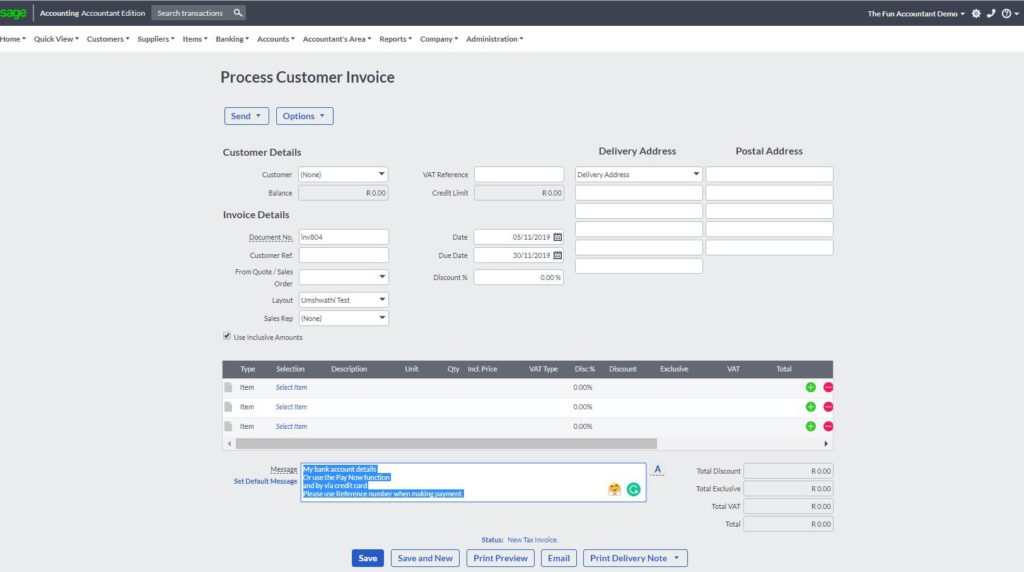 5.Recurring Invoices
I have generated recurring invoices for property rental, subscription-based and security companies. The fact that I could choose whether the invoices are automatically generated and send to clients assist with not missing any invoices. The messages that appear on the dashboard if there are any recurring invoices ready to be reviewed improves my efficiency. The recurring invoices whether used for daily, weekly, monthly or annual recurring invoices is a powerful function that comes standard with the Cloud Accounting package. 
6.Customer reports
The customer reports are everything you would expect from Sage which is already giving so much within the invoicing function. There are a number of reports you can choose from whether it is for customers, sales or other categories like departments. 
The drill-down function to the transactions assists me to understand deviations and abnormal transactions. The reports are comprehensive with many options in terms of period selection whether monthly, yearly or any other custom date. 
The only aspect that Sage could maybe put more attention to the graphical presentation of financial information. Sage does not offer many graphs and graphical displays. 
7.Customer Quick View
Last but not least is the Customer Quick View functionality. One of the most brilliant concepts that Sage created and an aspect that I use every day in my business. It works like a short-cut to the most important information about any customer. With this function, I really feel now we are reaping the benefits of Cloud Accounting. I use it when talking with a client about their outstanding account with great effect.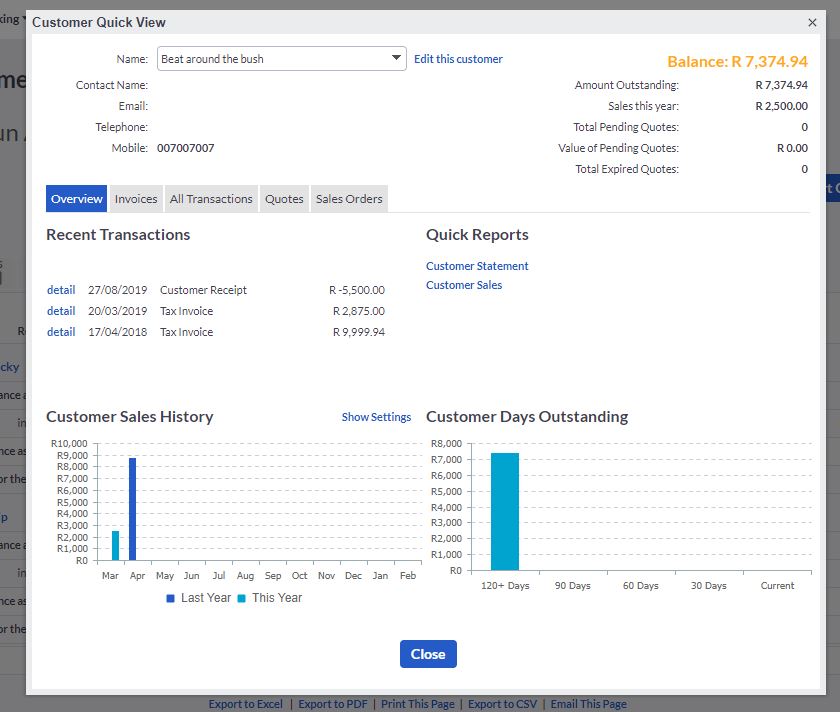 My final conclusion of Sage Business Cloud Accounting Invoicing.  
Sage Business Cloud Invoicing within the Sage Cloud Accounting package ensures the running of a customer database, quote, invoicing, warehouse, delivery, record keeping and cash-flow system. 
Cloud Accounting is a necessity for small business owners to help them stay on top of their businesses in this digital, fast pace economy. 
Sage is perfect for all types of businesses in different industries that are generating invoices and statements. 
As long as I have an internet connection, I can log in and unleash my business functions. The system is stable and live. 
Sage has an excellent track-record of small and medium-sized businesses going on an Accounting Software package for the first time. 
Conversion from Desktop Accounting Software us equally successful as businesses utilise the advantages of Cloud Accounting.  
I have experienced very little down-time over the number of years that I have been using Sage Cloud Accounting as a Chartered Accountant.
My only negative experience with Sage is its inability to integrate with large international website platforms like WordPress, and online payment platforms like Paypal. 
I would highly recommend the invoicing function of Sage Business Cloud Accounting and give it a rating of 95/100 or 4.5 stars. 
Sage Business Cloud Accounting may be the ideal tool the automate your business's sales cycle. If you have any more questions about whether this may be ideal for your business or your clients' you are welcome to get in contact with me.